Melany Desdemona

Hair

Black

Eyes

Grey (Red in ChangedForme)

Status

Alive

Affiliation

Taricta

Weapons

Pistols, dagger

Threat Level

High

Element

Chaos

Ethnicity

Asian

Height

5'9"

Age

20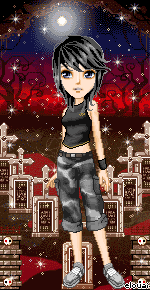 Appearance
Edit
Melany has shoulder-length black hair, grey eyes, and lightly tanned skin. She wears clothes in shades of black, and has a tattoo of a serpent on her leg. Melany usually wears a silver pendant of a serpent wrapped around a sword. She is twenty years old.
Personality
Edit
Melany is very headstrong, and hates losing battles. She can be very sardonic at times, and usually taunts her opponents when fighting. However, she gets dead serious when facing off against a strong opponent... Melany refuses to give up, and will always stand her ground to the bitter end. She's not afraid to die, and always enters a battle without a single fear for her life, no matter how strong the opponent is.
Etymology
Edit
Melany means "dark", and Desdemona means "ill-starred."
Abilities
Edit
Melany is an excellent spy. She can lie with a straight face, and is very stealthy. She's not afraid to kill, and will mercilessly slaughter anyone who gets in her way.
Two pistols
A dagger with a serpent engraved on it
ChangedForme
Edit
Element: Chaos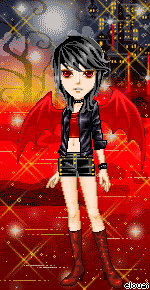 Personality
Edit
When in her ChangedForme, Melany is more aggressive and sadistic. She can control her emotions while in her ChangedForme and thus won't go berserk, but her bloodlust increases.
Appearance
Edit
Melany gets a pair of devil wings, and her eyes turn red.
Abilities
Edit
She can use chaos-based attacks. Her specialty is Chaos Fire,
Backstory
Edit
Melany is a former member of the Nebula Squadron who defected to the Taricta side for unknown reasons. She helped found the Nebula Sqauadron, but left soon after. She destroyed several of the buildings in the base before leaving.
Melany and Ray have known each other since childhood. Little is known about her past.
Threat Level
Edit
High
Relationships With Others
Edit
Fatal Flaw
Edit
Her fatal flaw is being unable to let go of the past.
Melany Desdemona's her alias, not her real name. Her real name is currently unknown