He is 16 years old,and an old rival of Derek.
He has blond hair and green eyes.
Zethos is with the Taricta.
Personality:
Edit
He is very mouthy and rood. He also has a tendincy to annoy enemies and insult them while in battle. If you insult him back after a while he will get really mad, which after a while if continued, he will turn into Zapdos.
Element and Changed Form:
Edit
His Element is Voltic, he when in this form, looks like a giant bird.He is capable of unleashing a very high amount of electricity.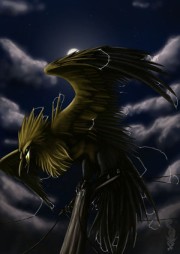 He is known as "Zapdos" instead of Zethos when in this form.
Weakness:
Edit
Plants. His electricity is useless against plants.But his is able to rip through them with his beak and talons.
Threat Level:High(When in Changed form)
Edit